Dining in Big Bear
Written by Trish Gordon
For its population, Big Bear has more Mexican restaurants per capita than your average city on the Baja. A locals favorite is El Jacalito, (909) 878-2131 located just past the entrance to Pine Knot Blvd., the restaurant is known for its Cadillac margaritas and whole fried tilapia. Plus there are steaming bowls of menudo for the Sunday morning after a night of excess.
La Montana, (909) 866-2606 on Moonridge road, offers Mexican food in a festive setting, including patio seating.
For fish, you can't get fresher than Sushi and believe it or not, even being close to 100 miles from the ocean, Big Bear's Sushi Ichiban (909) 866-6413 restaurant has great sushi. Ichiban also has lots of Japanese favorites including Udon soup and calamari salad.
For Chinese food, look no further than the Mandarin Garden, (909) 585-1818 in Big Bear City. Located away from the hustle and bustle of Big Bear (well, on a busy weekend anyway), the restaurant overlooks the landing strip and hangars of the Big Bear airport.
For continental cuisine, head downstairs from the Mandarin Garden to the Barnstorm Café, (909) 585-9339. Fresh food tastefully prepared is the specialty here, along with a quiet atmosphere that's the perfect antidote to a busy day on the slopes or in the Village shopping.
Its Friday night and you just drove all the family up the hill and everyone's cranky, tired and famished. Pizza fits the bill and Maggio's (909) 866-8815 is the locals favorite. Located in the Von's shopping center, the pies are good and there are delicious antipasto salads on the side, as well as the ubiquitous pitchers of beer.
If you're walking in the Village and the mood for good Italian strikes, head to Venice restaurant (909) 866-8777, and their fine Italian dining. Everything's made from scratch and it tastes it, plus they have some outdoor seating so you can watch the world go by.
You might be surprised to realize that fine dining is available in the land of hiking shoes and fishing poles. Madlons, (909) 585-3762, located in Big Bear City, specializes in special occasions. Madlon and her staff go out of their way, whether it be an anniversary or birthday, or even just a much needed break from the kids, to make your dinner delicious and romantic. Try the duck or lamb - they're delicious.
No matter what you are in the mood for, Big Bear Lake has a restaurant to suit your fancy. So loosen your belt and prepare to feast!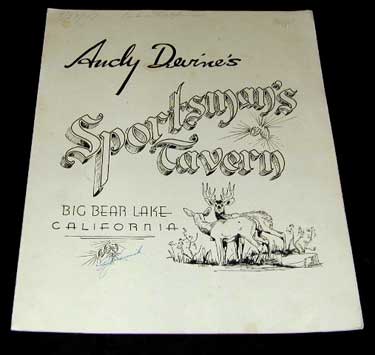 Andy Devine had a restaurant in Big Bear in the 1940's